An Evening with Andy Taylor, Robert Plant & Special Guests Announced Live Concert / Gala Dinner / Live Auction By The Fine Art Auction
Media Inquiries & Interview Requests:
Allison Zucker-Perelman Relevant Communications
allison@relevantcommunications.net
DD 561.715.9525
AN EVENING WITH ANDY TAYLOR & SPECIAL GUESTS IN SUPPORT OF THE CANCER AWARENESS TRUST
SATURDAY 21ST OCTOBER – SOHO FARMHOUSE THE COSTSWOLDS
FEATURING ROBERT PLANT, ANDREW RIDGELEY, KATHERINE RYAN, ELLA HENDERSON, NINA NANNAR & MORE
FINE ART AUCTION HOSTED BY THE FINE ART AUCTION CHANNEL FEATURING WORKS BY BANKSY, PICASSO, KEF!
AUCTION OF FENDER GUITARS SIGNED BY ARTISTS INCLUDING LADY GAGA, NILE RODGERS AND GREEN DAY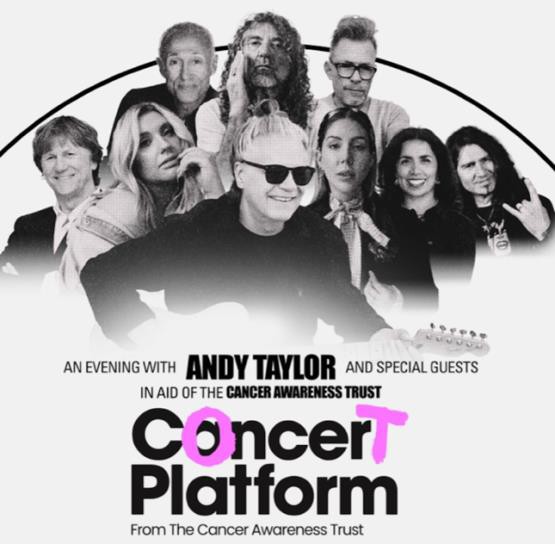 Website: The Concert Platform
Approved Downloadable Press Assets: Approved Press Assets
Miami/London/New York October 2nd, 2023: Andy Taylor, acclaimed guitarist, writer, and Founding Member of Duran Duran, will host an event on the 21st of October to celebrate his incredible music career and extraordinary cancer journey. Andy will be joined by icons of pop, rock, comedy, science, and art, all coming together for one exceptional evening.
The evening will include the legendary Robert Plant, Wham! star Andrew Ridgeley, drummer to the stars David Palmer (Rod Stewart, ABC, Pet Shop Boys, Sting,Bryan Adams, Tom Jones, The The, Yellow Magic Orchestra), Brit & Ivor Novello nominated singer Ella Henderson, the inimitable Katherine Ryan, broadcasterNina Nannar and many more who will entertain a room of 100 special guests including two lucky fans who will be able to win the opportunity to be there, all in aid of The CancerAwareness Trust (CAT). The Fine Art Auction will also broadcast a live auction featuring pieces from Banksy and Picasso on their digital and broadcast platforms.
The Fine Art Auction, the first ever global broadcast channel dedicated to Art, is honored to be the chosen auction partner for this event and has curated an unparalleled collectionof Fine Art to be auctioned live by its celebrity presenters along with spectacular items graciously donated by Rockstars. A Live auction will be hosted onsite by The Fine ArtAuction's Richard English and Lucy Cowley. An Evening With Andy Taylor & Special Guests on the Fine Art Auction!
Andy became Ambassador of the UK-based charity CAT after his cancer journey was transformed by one of the charity's Founders, Professor Sir Chris Evans, who is also one of the world's leading biotech entrepreneurs. Sir Chris and the experts he works with identified the life-changing treatment Andy is now receiving in London.
Andy Taylor: "I'm very excited to take my first steps back into playing live again, so I'd like to pass on my heartfelt thanks to all who have supported me in making theevening possible. Over the past several months I've got to know Sir Chris well & dug into the vast knowledge & experience he has, which not only gave myself a 2nd shotat life but greatly heightened my awareness as to what can be done & the role, I could play in helping others achieve their best outcomes. And really, all we had to do wasput a band together, but not just any old band, so I'm very buzzed about blowing out a few cobwebs & raising as much as possible for CAT – The Cancer Awareness Trust."
Professor Sir Chris Evans says, "This event is a celebration of an incredible musician, collaborator, friend, and Ambassador, the iconic Andy Taylor. So many amazingpeople have come together to put this show together with Andy and I can't wait to celebrate with them all on the night".
Founded by Professor Sir Chris Evans and Dr Rajan Jethwa, the charity is developing a global first, a website called Cancer Platform, which will do for millions what Sir Chris andthe charity have done for Andy. It will make it quick and easy for everyone affected by cancer to freely access information they can trust at every stage of their cancer journey.Cancer Platform will transform cancer outcomes globally, and this event will raise money that will go directly towards the creation of the new global platform.
The 100 guests, a mix of philanthropists, supporters, and members of music industry, have donated to the charity to secure their spot at the unique event. In addition, fans canenter an auction to bid for two exclusive VIP tickets and a meet and greet with Andy on the night.
Professor Sir Chris Evans "I'm looking forward to putting the funds raised to the crucial and urgent work of transforming cancer outcomes through the Cancer Platform.A huge thank you from me to Nick Jones of Soho House, all the artists involved, the organisers, the auction partners and everyone who has donated to make thishappen".
Event Website & Online Auction Open for Pre-Bidding: The Concert Platform
Live Art Auction Details: The Fine Art Auction
Cancer Awareness Trust website: Cancer Platform
Bid for 2 x VIP Tickets & Meet and Greet tickets: Charity Buzz Media Inquiries & Interview Requests:
Allison Zucker-Perelman Relevant Communications
allison@relevantcommunications.net DD 001 561.715.9525
Tony Colville
The Cancer Awareness Trust tony@cancerawarenesstrust.org DD +44 7593 599 648
Andy Taylor Julian Stockton jmsPR
julian@jmspr.co.uk DD 0793 954 1772
Previous coverage of Andy Taylor cancer & music journey
LA Times: Andy Taylor of Duran Duran thanks 'guardian angel'
Rolling Stone: Andy Taylor has a new lease of life
The Times: I was classified as palliative, end of life care
The BBC: Cancer drug has given him five more years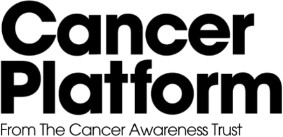 About the Cancer Awareness Trust
The Cancer Awareness Trust is a UK registered charity established by Professor Sir Chris Evans and Dr Rajan Jethwa, and Co-Founded by David Rees, backed by global experts in cancer, tech, data, and many other specialties. The charity is a movement, collaborative not competitive. The idea for the charity was borne out of frustration at a broken system for navigating cancer. Whilst building their cancer drug development company Ellipses, Sir Chris and Dr Rajan supported numerous individuals with advice on their cancer journeys. They helped people to understand their diagnosis, their options, and the steps they could take whilst living with cancer, including the latest information onrelevant clinical trials. This support extended to prevention, helping people to understand where they could find expert information to help reduce their chances of developing cancer.
Through this work it became clear that no one has found a way of making expert and trusted information for the various stages of cancer, from prevention to end of life, availableto people through quick and accessible means in the digital age. What people face is a fragmented landscape. Organizations competing for attention and an overload of often complex, dense, and non-specific information. Much of the information available online, is misinformation that makes it hard for people to know which way to turn. How do you make the decision of who to trust?
It was clear that there had to be a better way of doing things. A way of bringing organizations, the latest technology and the world's leading experts together so people could feelempowered and be equipped to tackle their cancer journey. A tool that could be created to save lives and significantly improve the lives of those affected by cancer globally. A movement.
In 2022, the Board appointed the first employees of the Cancer Awareness Trust, who began to secure global Founding Partners, Patrons, and Supporters to provide the funds, alongside the core philanthropic backing of Sir Chris, to work with cancer patients, experts, and the wider workforce to test the idea for the platform. The vision, strategy and design of the platform is deeply informed by people who need it, by those with lived and professional experience of the problem of fragmented cancer navigation. In 2023, theFounders welcomed David Rees of the Seerave Foundation, as a Co-founder. A significant donation from the foundation kicks off the next phase of our journey – the development of our data and tech framework, which underpins the whole platform.
Cancer Platform is also supported by the Evamore Project, a unique record label created by Sir Chris. Andy Taylor has featured on a track called This Christmas Time which alsofeatures.
Ozzy Osbourne, Nick Mason, Nick Lloyd Webber, Samantha Womack, and many others. Other contributors include Delta Goodrem, Robbie Williams, Sinead O'Connor, Ronnie Wood, Brian Eno, Sharon Osbourne and many, many others. See here for more information. Evamore raises profile, funds, and support for the development of Cancer Platform.

About The Fine Art Auction
The Fine Art Auction Channel is a ground-breaking entertainment platform: providing the most significant contemporary and urban artists of our time, as well as the most-important 20th and 21st Century Artists and the venerable Masters. We invite global audiences to Experience the first ever global channel dedicated to Art.
The opportunity to explore Art and to be a part of a Live Art Auction is an Experience unlike any other. No other channel brings to you the variety of content we do: It is captivating, entertaining, informative, and interactive.
The Fine Art Auction, the first ever global broadcast channel dedicated to Art, is honored to be the chosen auction partner for this event and has curated an unparalleledcollection of Fine Art to be auctioned live by its celebrity presenters along with spectacular items graciously donated by Rockstars. A Live auction will be hosted by The Fine ArtAuction's Richard English and Lucy Cowley.
Tune in for our live Auctions, our in-studio Artists' Appearances, our video features narrated by our experts and Curators in our unparalleled "behind-the-scenes" celebrity Artistinterviews, and our continuing commitment to providing programs that foster emerging artists. Stand with us as we raise awareness and create philanthropic initiatives forcommunities in need, as we address crises and recognize heroes throughout our world. We use our cultural and artistic capital to help those in need, because together we can do what we cannot do alone.
The Fine Art Auction Channel presently enjoys a global audience of millions and has become the trusted platform that has allowed people, quite simply, to find and acquire Art they love. There is the thrill of the Live Auction experience, hosted by world-renowned Celebrity Auctioneers and Presenters. Their careful curation of the artworks and their unparalleled knowledge have made them Icons in the genre; and have enabled people all over the world to become a part of the artistic & cultural movement that is The Fine Art Auction channel.
Join us in this global Art Experience, on broadcast television, on streaming platforms, on all your devices and from the comfort of anywhere you choose.
INTERVIEWS AVAILABLE UPON REQUEST
Downloadable Press Assets: Approved Press Assets