KOLO Media
RECENT PRESS HIGHLIGHTS:
KOLO: The Show to Premiere in Sarasota: Celebrating the Artistic & Cultural Heritage of Ukraine – Bonita Springs Florida Weekly
KOLO: The Show to Premiere in Sarasota: Celebrating the Artistic & Cultural Heritage of Ukraine – The SWFL 100
Van Wezel Performing Arts Hall announces the 2022-23 season lineup | Let's Go! | yoursun.com
---
Allison Zucker-Perelman
Relevant Communications / RCPR
allison@relevantcommunications.net
561.715.9525
Emerging Media
Joey Amato
Relevant Communications / RCPR
joey@relevantcommunications.net
FOR IMMEDIATE RELEASE:
INTRODUCING TO THE WORLD: KOLO, AN UNPARALLELED IMMERSIVE VISUAL EXPERIENCE CELEBRATING THE RICH ARTISTIC & CULTURAL HERITAGE OF UKRAINE
DEBUT NORTH AMERICAN TOUR KICKS OFF IN SARASOTA, FL ON DECEMBER 26 – TICKETS ON SALE NOW
U.S. Tour To Make Stops In 2023 In Los Angeles, New York,
Dallas, Houston, and Las Vegas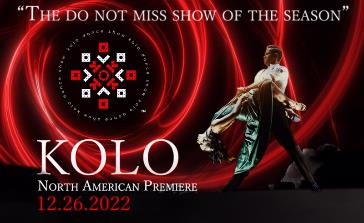 WATCH KOLO SIZZLE REEL HERE.
Sarasota: Florida – October 2022 – As our world experiences a pivotal chapter in history, it is both an honor and a privilege to present a magnificent and magical window into KOLO, KOLO SHOW , a brand-new theatrical dance show and immersive visual experience celebrating the dance, visual and musical heritage of Ukrainian culture. KOLO will make its North American premiere at the Van Wezel Performing Arts Hall on December 26, 2022 in Sarasota, FL. Tickets on sale now HERE. KOLO also presents at the Mahaffey Theater in St. Petersburg, FL on December 29 2022 (tickets on sale 10.14.22). In 2023, KOLO will continue its multi-city tour in the U.S. major markets of Los Angeles, New York, Dallas, Houston, Las Vegas, and several other markets to be announced.
The first of its kind, KOLO is the brainchild of award-winning, Ukrainian-bred competitive ballroom dancers and partners, Iaroslav and Liliia Bieliei, both natives of Kyiv, Ukraine who now call Los Angeles home. Serving as executive producers of KOLO, Iaroslav and Liliia are widely respected in the dance sport community with over 25 years of experience and renown. Both Liliia and Iaroslav are US National Champions, US Open Champions and World Show Dance Vice-Champions. Iaroslav began his dance career at six years of age and has been named Ukrainian National Champion, US National Professional Rising Stars Champion, as well as winner of the prestigious UK Open Championship in England. Liliia began her ballroom dance career at just four years old and has racked up prestigious awards including Ukrainian National Champion, European Championship finalist, famous International Championship winner in London, UK.
Additionally, many of the day-to-day KOLO staff are based in Ukraine – bridging the connection between the world, a country amid turmoil: yet illustrating a narrative that speaks to the indomitable nature of the modern Ukrainian spirit.
"We are deeply honored to present the KOLO Dance Show to the world," shares Iaroslav and Liliia Bieliei. "The upcoming North American Tour has been our dream ever since we began to dance in our home country of Ukraine. Ballroom dancing is such a beautiful form of Art and we have produced this performance to showcase the artform, the music and the extraordinary visuals that truly have never been presented. This groundbreaking show will allow audiences not only to be immersed in a once in a lifetime experience into our rich and diverse culture, but also witness the Ukrainian pursuit of freedom in the cycle of modern history."