RELEVANT SECURES PRESS IN ADVANCE OF NORTH AMERICAN ART TOUR "STICKMAN: AGAINST THE WALL: THE NEW SHIT"
Bold Journey: Meet Trevor Stickman" Stickel"
We were lucky to catch up with Trevor "Stickman" Stickel recently and have shared our conversation below.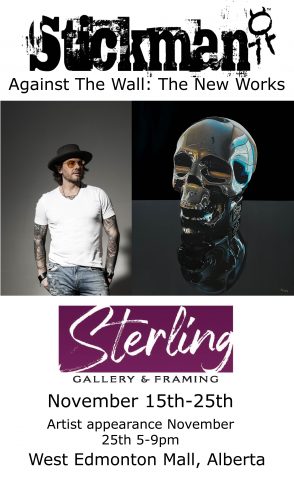 Trevor "Stickman", we're thrilled to have you on our platform and we think there is so much folks can learn from you and your story. Something that matters deeply to us is living a life and leading a career filled with purpose and so let's start by chatting about how you found your purpose.
My sense of purpose come from the need to express a deep visceral love for the rebellion, chaos and design aesthetics of the rock n roll space. I often state – when a person chooses a different path, is admired by their peers and stays true to themselves with zero regard to the court of public opinion, they transcend to rockstar status regardless of their path or medium. So….Iam fulfilling that purpose: I am recognized for my works and have found success.