Allison Zucker Perelman – CEO & Founder Of Celebrity PR Firm Named Main Stage Host At October Women's Expo
FOR IMMEDIATE RELEASE
NOTE FROM THE CEO: After years in corporate America…the entertainment biz in LA…an 8-year stint at the National Football League in NYC. (In the 1980's pretty much a men's club…was one of the first female execs)…. .went out on my own…found a niche….and became successful in the quite focused and narrow world of rock stars and celebs who are fine artists. Go figure. Now trying to pay it forward to young women and women of all ages.
Allison Zucker-Perelman, CEO & Founder of Boca Raton-based Celebrity PR Firm Relevant Communications will be the Women Empower Expo Fort Lauderdale 2017 Main Stage Host. With years of experience in Television and Entertainment PR, Allison has been a driving force behind the extraordinary success of many entertainment properties; among them international blockbuster museum presentations, multi-city North American branded traveling museum and gallery exhibitions, and branded concert tours for the world's most famous rock stars and bands. www.relevantcommunications.net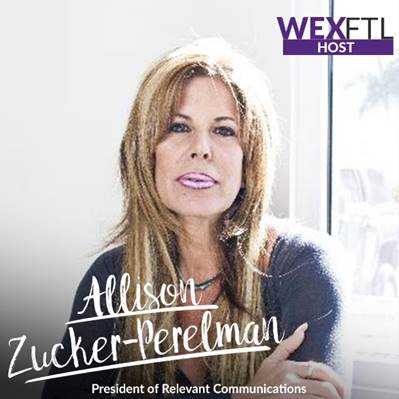 WEX is excited to have such a dynamic female leader to host this year's main stage. The Women Empower Expo takes place on Saturday, October 7th, 2017 at the Fort Lauderdale Convention Center from 10am to 5pm.
WEX is a one-day event from 10am to 5pm filled with workshops, panels, breakout sessions, a pitch competition, networking lounge, woman-owned marketplace, author book signing, yoga classes and much more. The mission for all of our events is to empower, educate and equip women with the knowledge, tools and community to create and grow successful businesses.
Link to Event: https://fortlauderdale.womenempowerx.com/wex-ftl