Times Colonist: Mick Fleetwood nervous about new photography exhibition in Toronto gallery
Reprinted from Times Colonist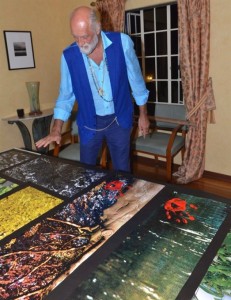 TORONTO – Mick Fleetwood may be a founding member of one of the most beloved rock bands of all time, but that doesn't make him immune to nerves.
His collection of hand-painted photographs, "Reflections," is now on display at the Liss Gallery in Toronto. The acclaimed drummer says he finds it "nerve-wracking" to expose another side of himself as an artist.
"The music world, my whole life has been there. I know now, at 67 years old, that I'm OK at playing drums," he said in a telephone interview.
"I pretty much know that people love Fleetwood Mac… I don't really know whether someone's going to like a picture that I've had the balls to put on a wall and say that I've done it."
"Reflections" features more than 30 photos taken by the Grammy Award-winning musician, some with hand-painted details added by other artists. Fleetwood will attend a private reception at the Yorkville gallery on Oct. 17 before the exhibition closes at the end of the month.
The collection — all of which is available for purchase — includes photos taken in the Wiltshire countryside near Salisbury and in Fleetwood's more recent home of Maui. The England native moved his 90-year-old mother to Hawaii about seven years ago and decided to document the journey.
"I wanted to remember that time. I wanted mum to take some of the country that she lived in with her," he said. "I wanted these pictures of the river and the trees and all the lovely roads and things around my mother's house… So I took these photographs to make a chronicle of what that had meant to our family."
Fleetwood has been a shutterbug since the late 1960s, when bandmate John McVie introduced him to photography. Later, when members of Fleetwood Mac shared a home, McVie built a dark room in the house. (One of McVie's photos graces the cover of the band's 1972 album "Bare Trees.")
"I'm the one who's got probably more photographs of this band's candid history," said Fleetwood. "And that's how it started, just snapping pictures of all the lovely places we travelled to, and gigs and moments, just like anyone who gets into doing family photography."
He started taking his hobby more seriously about 12 years ago, but only began showing his photos in local Maui galleries after friends pestered him to do it. The Toronto launch of "Reflections" marks his first exhibition outside of Hawaii.
"I'm sure it's to do with my dyslexic childhood hangover, where the confidence factor is always looming in the background, saying, 'Can you really do this?'" mused Fleetwood.
"A lot of people don't do things because they don't want to be rejected, which is human nature," he added. "But what we tend not to like to hear, especially with our friends, is 'Why wouldn't you do that? You could've.' Would've, could've, should've… If you find something to do that is some form of creative outlet, I think it's really healthy to say, 'Why not?'"
Fleetwood and McVie founded Fleetwood Mac in 1967 with McVie's then-wife Christine joining in 1970. After Lindsey Buckingham and Stevie Nicks joined in 1974, the band released their eponymous hit album the following year. "Rumours," issued in 1977, is often hailed as one of the best rock albums of all time.
The ever-modest drummer says his main job in Fleetwood Mac has been "to keep the band together and to find new people to put in it over the years."
"That's fair enough to say that's what I did outside of playing. I've organized this funny stage known as Fleetwood Mac and then went along with everyone else on this lovely ride," he said.
"If you look at the songwriters, like Lindsey, Stevie or now Christine, they take responsibility for writing a song. I pretty much never did that… (The photo exhibition) is a version of me writing a song. I have to take responsibility for it myself."
The band recently kicked off a sold-out U.S. arena tour with Christine, who played keyboards and sang in the band before leaving in 1998. Fleetwood said the shows so far have been "unbelievable."
"We were out on the road a little over a year and a half ago, not that long ago, without Christine. We toured all over the world. It's always amazing. We have fantastic audiences all over the world and we're blessed," he said.
"But having Christine back in this band, it is literally mind-blowing. From a level where you go, 'Oh my God, people still love this band so much.' It's gone (to) a level like you can't even imagine. I didn't know there was such a level of enthusiasm.
"They're going literally bananas when we walk on that stage. They're so happy that she is back in this band."
– See more at: http://www.timescolonist.com/entertainment/mick-fleetwood-nervous-about-new-photography-exhibition-in-toronto-gallery-1.1416058#sthash.NWrMo1YI.dpuf